Please look at this most recent Teach Wimbledon Newsletter with updated information on students training to teach.  This is a wonderful opportunity if you are thinking of training to be a teacher.  Many of our staff at St Teresa's have been appointed after having gone down this route!
Non-Teaching Post – Vacancies
Casual Midday Supervisory Assistants – The school are looking for casual staff to cover sickness and times when we need additional help.  If you are interested in applying for this post, please download and read the documents below and proceed with completing and submitting an application form.  Please provide the names of 2 referees, other than your Parish Priest, as priests are reluctant to give references.  The completed form should then be emailed to lorraine.isaac@st-teresas.merton.sch.uk.
Casual Midday Supervisor advert
Teacher Recruitment
The Merton Education Partnership website, commissioned to help recruit teachers in Merton is now live. As well as promoting Merton as a great place to work and teach the site also has links to Merton Eteach and the Merton NQT Talent Pool.
Why Work at St. Teresa's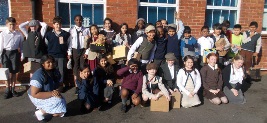 The school is serviced by excellent public transport links and is only a short bus ride from Morden Underground Station. We have a secure cycle store and ample parking is available for those coming by car. Teachers in the Borough of Merton enjoy the benefits of the inner London fringe allowance which could make all the difference if you are looking to settle in the area.
If you're searching for your next post, why not contact us now? You'll be working at a great school and be part of a friendly, helpful team. We're always interested to hear from enthusiastic, committed candidates – send us your CV now and say what sort of role you're looking for.